Middlesex Cricket and William Perkin CofE High School
New cricket centre created around cricket legend Wilf Slack
Middlesex Cricket and William Perkin CofE High School, with investment from Sport England, England Cricket Board and Wilf Slack Trust, wanted to create a state of the art indoor cricket centre in West London. They had a bold vision to create a destination cricket centre for clubs, youth and professionals built to a high standard. The cricket centre was to be named and carry a central brand environment theme around cricket legend Wilf Slack.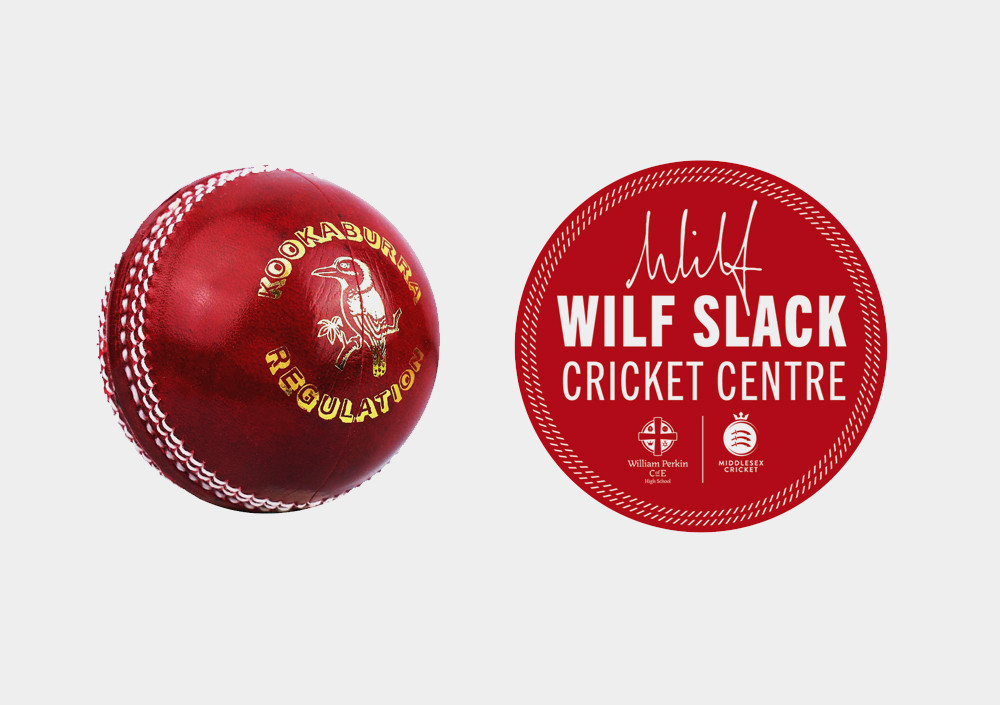 THE CHALLENGE
Middlesex Cricket and William Perkin school wanted to bring to life the story of Wilf Slack in the newly created indoor cricket centre in West London. The Wilf Slack story will help communicate the vision and values of this joint partnership between one of the country's leading cricket clubs and one of West London's leading schools. The joint leadership are keen inspire the next generation of young cricketers through all that Wilf Slack achieved in the cricketing world.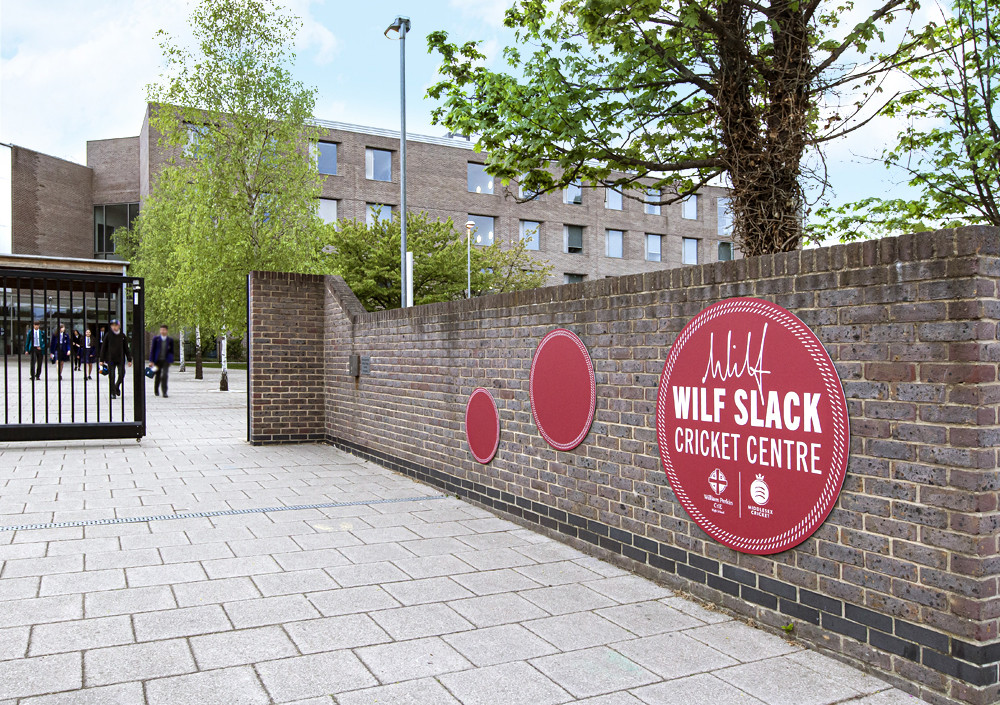 THE INSPIRATION
RAW Brothers guided the joint project team through a number of workshops and creative sessions to establish a clear way forward that placed Wilf's story at the heart of the new design. We worked in partnership with the project architects to establish the practical opportunities in the built environment and worked alongside the Middlesex Cricket archive team to utilise historical artefacts that could be used on the project. The Wilf Slack story is inspirational, this provided the thread that would guide you through into the new cricket centre.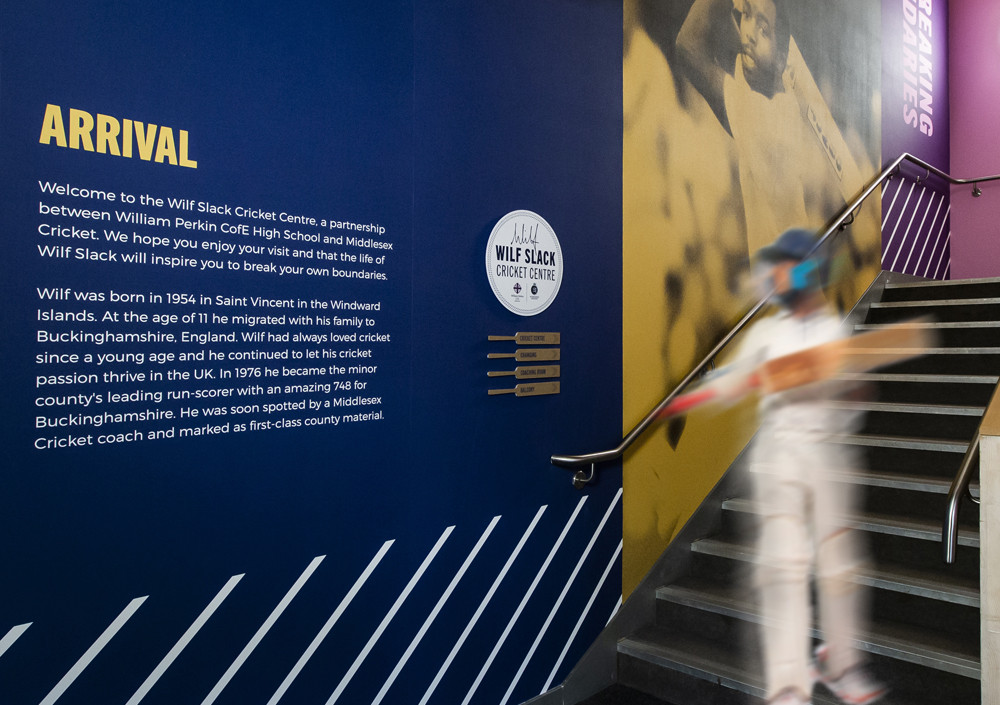 THE RESULTS
RAW Brothers provided a clear brand architecture strategy for the dual branding challenge and naming of the project. A unique one-off dual brand approach was developed between the cricket club and school to create this new joint brand environment. Artefacts and archive material were used to a create large format graphics journey over three floors. External and internal wayfinding was sensitively integrated in to the current schools brand environment. The Wilf Slack story is now firmly established in this new state of the art cricket centre in West London.
Mini intro video shared with kind permission of Middlesex Cricket
Who was Wilf Slack?
Wilf was born in 1954 in Saint Vincent in the Windward Islands. At the age of 11 he migrated with his family to Buckinghamshire, England. Wilf had always loved cricket since a young age and he continued to let his cricket passion thrive in the UK. In 1976 he became the minor county's leading run-scorer with an amazing 748 for Buckinghamshire. He was soon spotted by a Middlesex Cricket coach and marked as first-class county material.
Wilf made his debut for Middlesex Cricket in 1977, but is was in 1981 that he really made his calm and classy impact. Wilf opened the batting against Kent at Lord's, he scored his maiden first-class century, 181 not out. The unbroken stand of 367 by Slack and his batting partner was a Middlesex record. This was the start of the Wilf Slack era and in 1985, after making 1,900 runs that season he was rewarded with a tour of Sri Lanka with the England B side the following winter.
Wilf was known as "the reserved Windward Islander who never betrayed any nerves despite the daily task of standing up to some of the fastest bowlers in the world", never shying away from opportunities to hit them for six. Wilf also went on to be a prolific bat pad catcher and bowler.

Wilf Slack Legacy
Wilf Slack went on to play for England and although his best performances will be remembered wearing the Middlesex Cricket badge he made an extraordinary impact as a young boy from St Vincent. During the cricket season of 1988 he suffered a number of blackouts, but exhaustive tests failed to identify the cause. At the age of 34, he sadly died whilst playing cricket in the Gambia. Wilf went in a way he would have preferred – "with the Sun on his back and runs under his belt". He was buried in his much-treasured England blazer with his bat beside him.
In his career Wilf Slack played 237 first-class matches, hitting 13,950 runs at an average of 38.96, including 25 centuries and 75 half-centuries. His amazing legacy still encourages players today from all backgrounds – Wilf Slack still not out!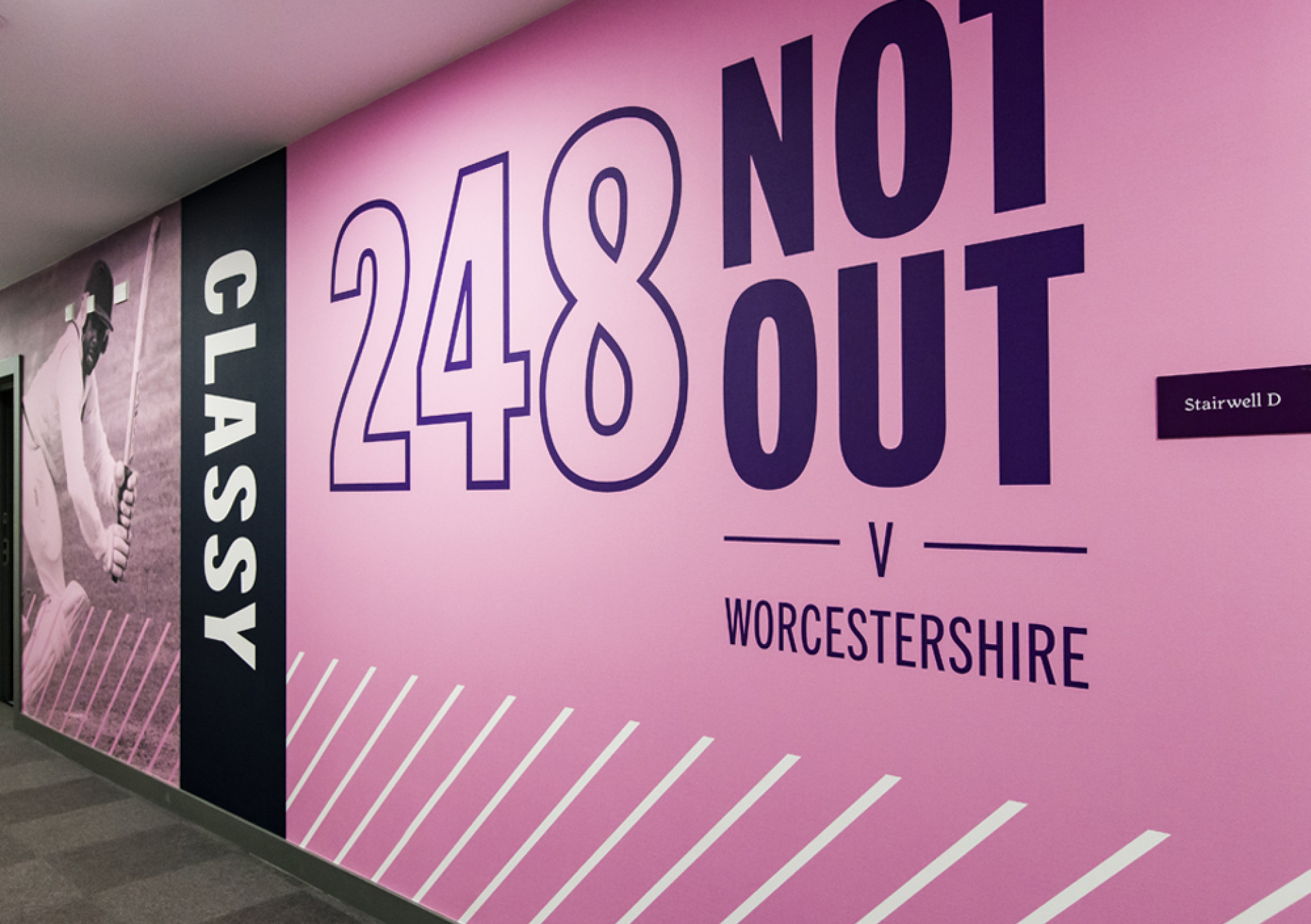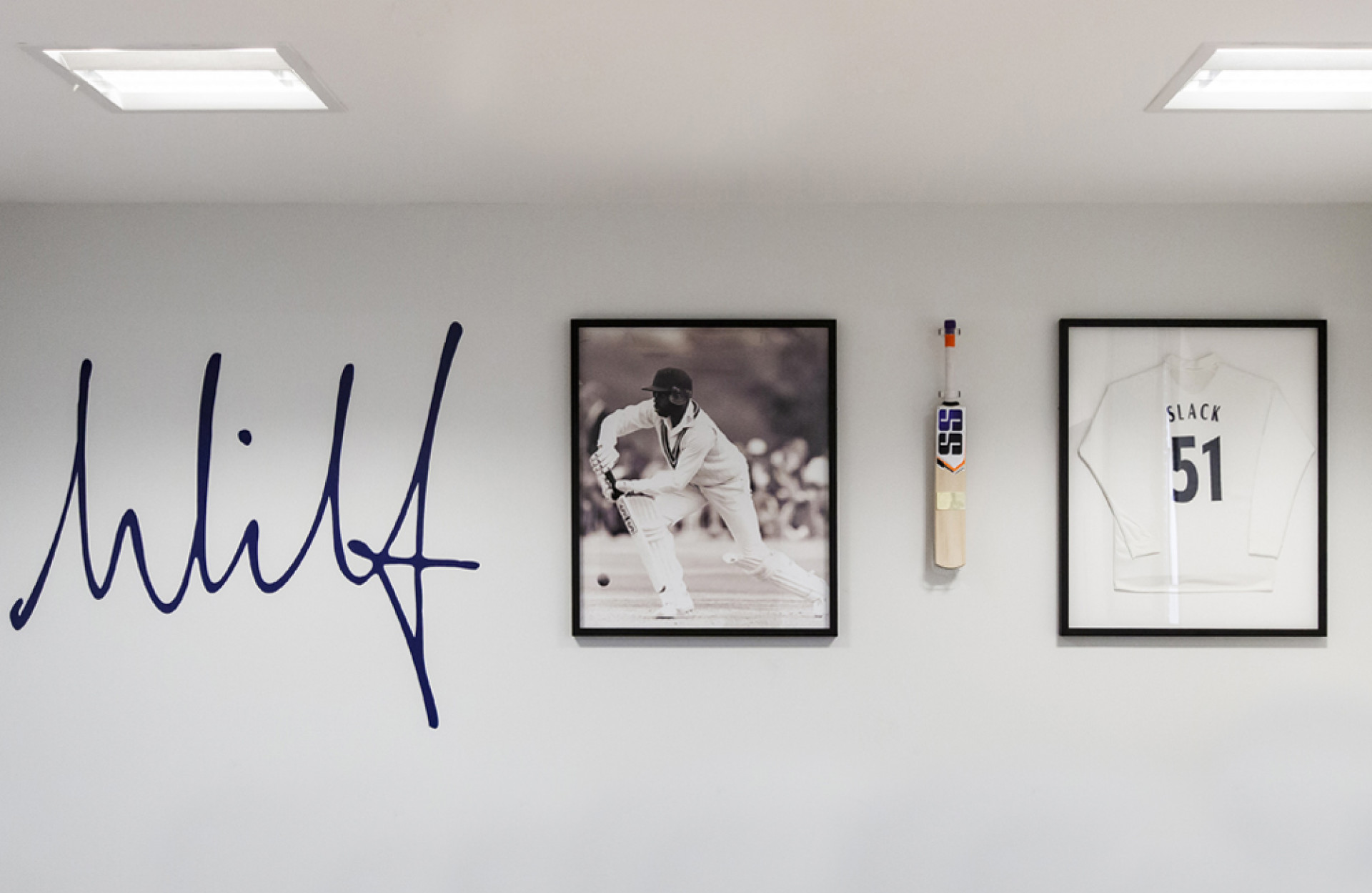 Project highlights
Story telling
This was a really satisfying project to work on, everyone wanted to represent Wilf Slack's story and work together to create a fantastic new resource for future generations.
Creating impact
The combination of the creative external wayfinding that leads you through the school grounds and then the dynamic impact as you journey into the cricket centre has been a great success.
Graphic integration
The project required some clever thinking from architecture wayfinding experts Signbox to help us maximise the large graphic opportunities across three floors as you enter the centre.
As ever RAW Brothers sparkle has made all the difference!

Dame Alice Hudson, Executive Head Teacher, Twyford CofE Academies Trust